Check your dig site by lodging a FREE enquiry
Lodging a FREE enquiry is a simple process. If you are new to the referral service, you will need to sign up for a new account.
When signing up, you will need to provide your email address to receive a verification code. Then you create your password and enter your full name.
Keep your login credentials handy and use them each time you want to use the service.
1. Login & search
Login and search for your dig site using a street address, lot number or Lat & Long coordinates.
Use the mapping tools to draw your proposed project site.
You can lodge a new enquiry or copy details from a previous job once the same location is marked.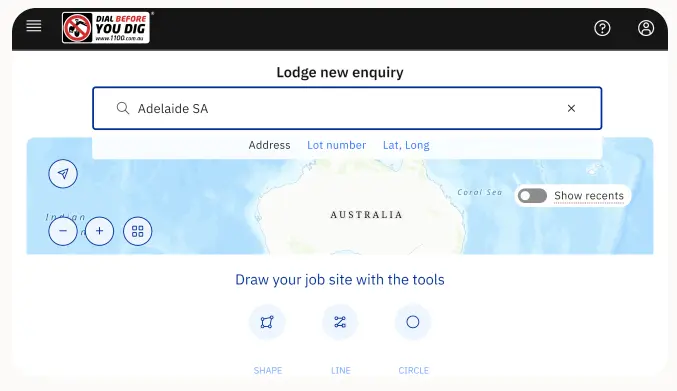 2. Project details
Provide project details, including location, start and end dates and type of work.
Tell us if you are working on behalf of a utility, council or private entity.
Describe the project in detail so utilities can provide accurate information.
Check all the details of your enquiry and then submit.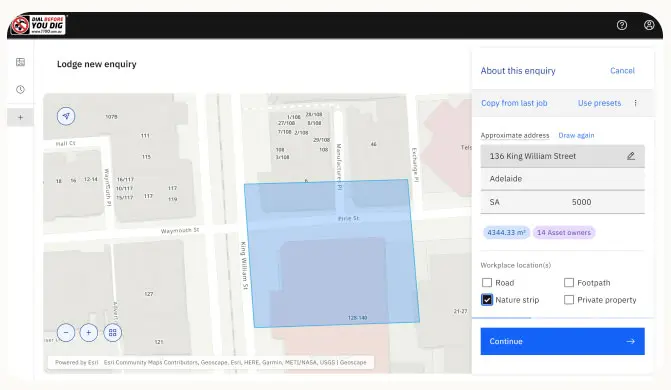 3. Enquiry summary
View a list of utilities, their contact details and expected wait times.
Go to "My Enquiries" to check the status of asset owner responses.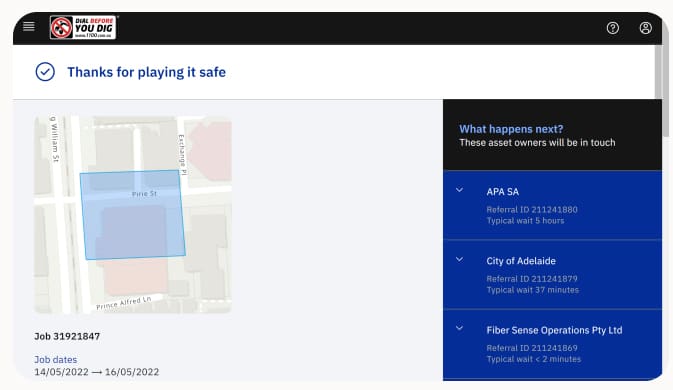 The enquiry confirmation email
Once you have successfully lodged your enquiry, BYDA will send you an enquiry confirmation email verifying your planned project details and site location. It also provides you with the contact details of asset owners and information on working safely.
What happens next?
You will receive plans and safety guidelines via email from infrastructure owners indicating the presence of underground assets. Plans indicate the presence of underground infrastructure only and not their exact location; you should only use them as a guide.
Plans typically arrive within minutes but allow up to two business days. These plans DO NOT come from Before You Dig Australia.
Should you require further information, assistance or have not received plans, please contact the asset owner directly via their contact details supplied on your enquiry confirmation email. Do NOT proceed until you have received the relevant information from all asset owners affected by your project.
How to avoid damage
Irrespective of size, any work has the potential to damage assets located around the excavation site, leading to service interruptions, delays to the project, costly repairs and in the worst-case scenario, injury or death. In order to avoid these incidents, it is essential to recognise your duty of care and always proceed with caution and follow the 5Ps of Safe Excavation.
Ensure all plans from registered members, as noted on the enquiry confirmation email, have been received and are on-site at the project location.
Ensure all workers onsite understand the instructions from affected assets before commencing work.
If the scope of works changes or the validity dates of plans expire, lodge a new enquiry.
Observe your work site closely and look for clues of surrounding infrastructure assets, such as pits, marker posts, warning signs, meters, etc.
Never assume pipes and cables run underground in a straight line or at a set depth.
Engage an accredited locator if instructed by the asset owner or if you require assistance to locate underground assets.
If further assistance is required, contact the asset owners directly using the contact details on the enquiry confirmation email.
If you damage an infrastructure asset, you must advise the asset owner immediately, using the contact details on the enquiry confirmation or via the Emergency Contacts.
Subscribe to stay in the loop
Keep up to date with the latest news from Before You Dig Australia